Finding the right Miami Beach wedding venue doesn't have to be hard. Here we have assembled a list of the ten best venues for your Miami Beach based wedding.
Below you'll learn why Miami beach is the perfect location to host your wedding and why so many people choose to get married here each year. If you're planning a wedding in Miami Beach, then these venues deserve a closer look.
Why Miami Beach is the perfect place for a wedding
Miami Beach has just about every variety of wedding venue that you can think of, so to say that you have options is an understatement. There are plenty of benefits to holding your wedding in Miami Beach like the proximity to the water and the incredible entertainment opportunities available to you and your guests.
The weather makes it so an outdoor wedding is possible year round. If you're looking for a place in South Florida to host your wedding, then you can't go wrong with Miami beach.
10 best Miami Beach Wedding Venues
If you want a venue that will make everyone else's wedding look plain and ordinary, the Temple House has what you need. The space has projection technology that can create a unique 3D projection mapping experience for you and your guests. There isn't another space around that can offer anything close to what this venue can.
If you want to embrace the art deco style of Miami beach fully, then holding your wedding at the classic Paris Theater should be top of mind. From the second that you set foot in this venue, you can see why it is one of the more unique places to rent for a wedding around. High ceilings and a substantial dance floor make this space feel big while remaining intimate.
With a marbled foyer and state-of-the-art surround lighting system, this 12,000 square foot event space is perfect for weddings. The space can support up to 400 wedding guests and is a testament to the art deco style of the area.
This beautiful historic Miami Mediterranean style wedding location has everything you need and then some. It boasts a traditional feel straight out of the 1930's with all the modern amenities you have come to expect.
The Jackie Gleason Theater is available to rent for your wedding, and it won't disappoint. Hosting your wedding reception here will get people talking and keep them talking.
As one of the oldest and most revered hotels in Miami Beach, the Loews is a great place to hold your wedding. With massive reception halls and some of the most professional staff around, the Loews is a great choice.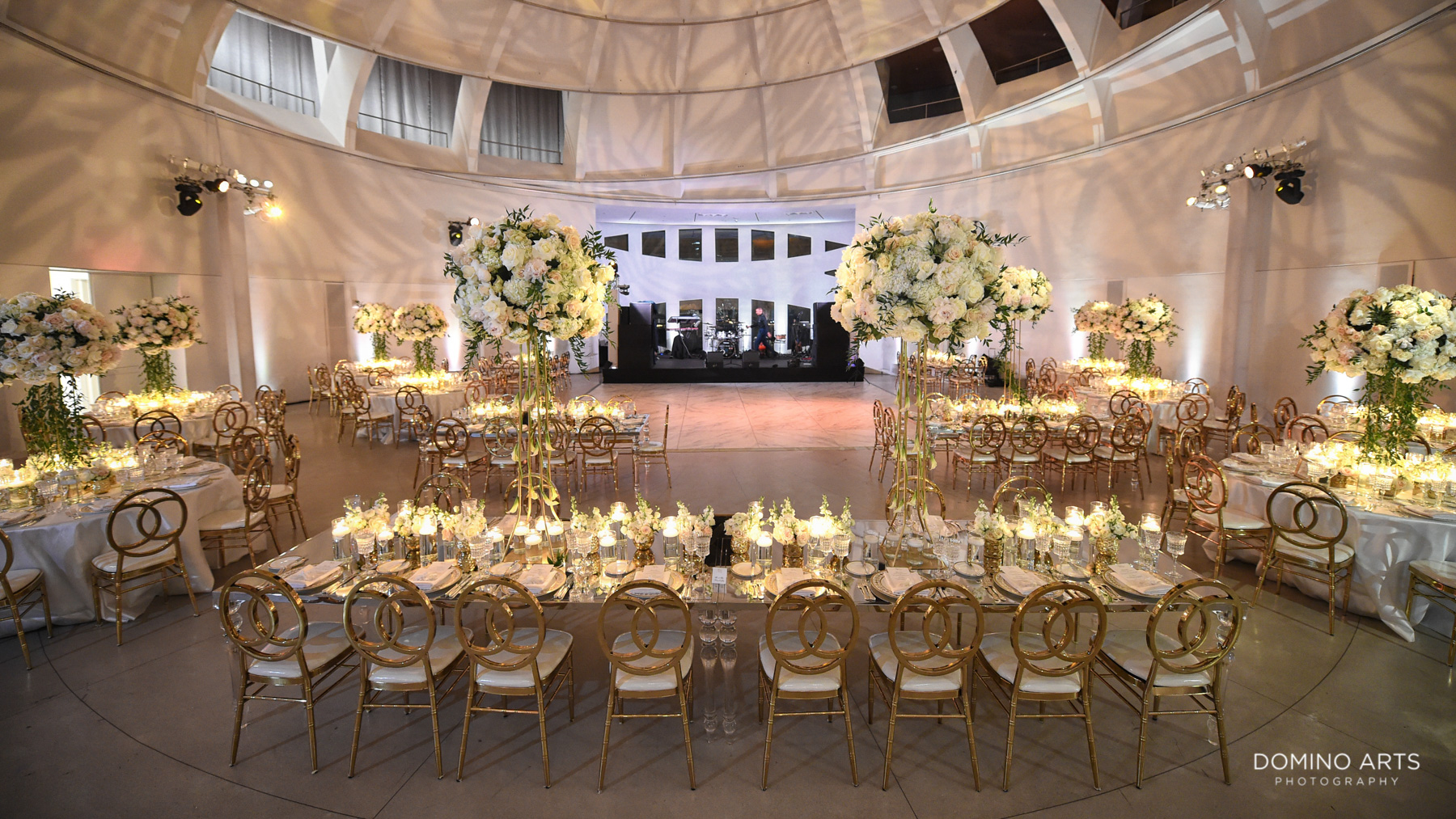 With over 43,000 sq/ft of event space and capacity for up to 500 guests, the Faena can accommodate even the largest wedding parties. This is a newer venue and brings its own unique personality to any event hosted here.
This beautiful oceanfront wedding and event facility offers an outdoor patio and a spacious banquet hall. The Shane Center is a smaller venue but is also one of the most affordable ones on the beach.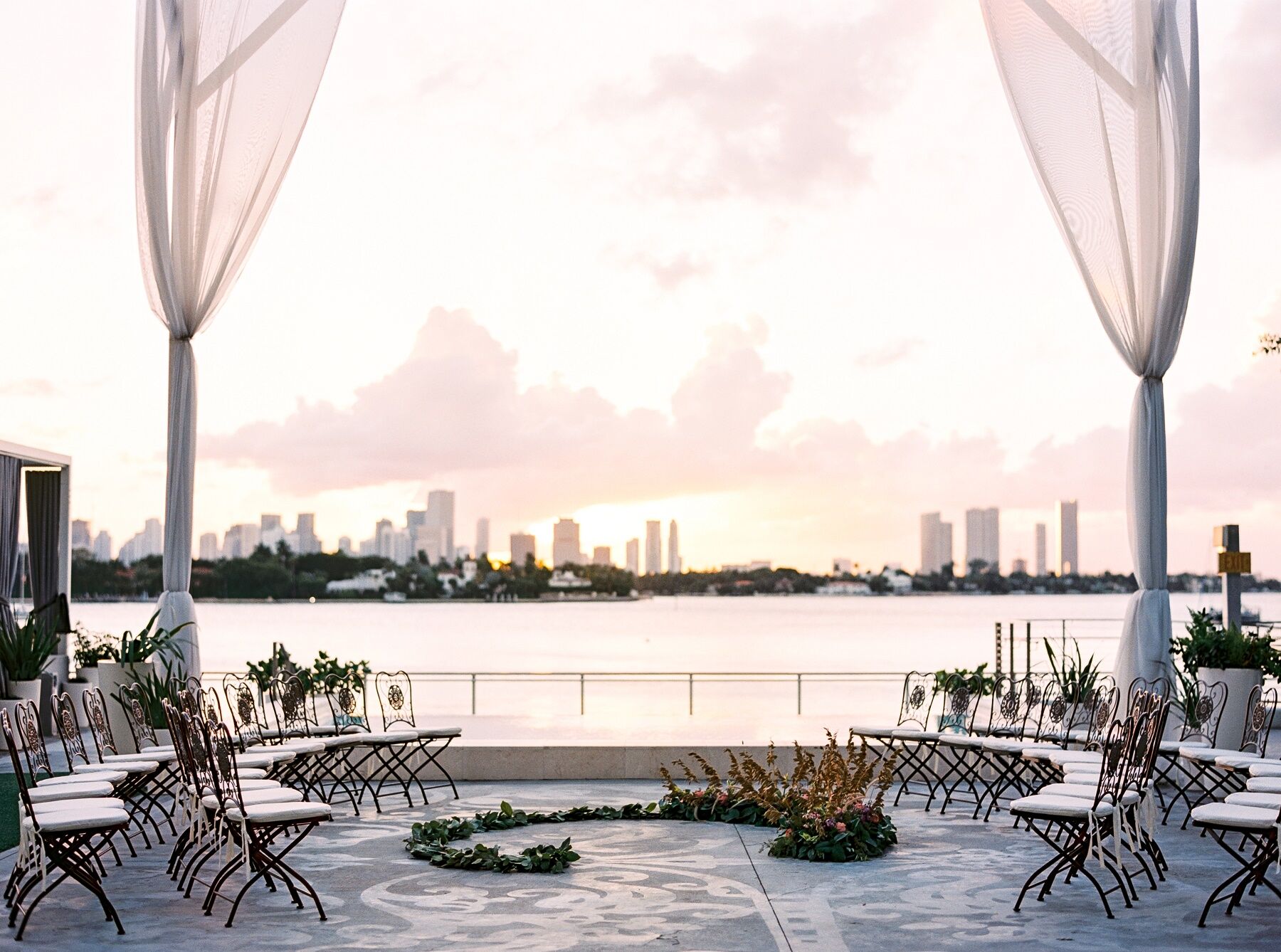 Taking its inspiration from the original Mondrian in Los Angeles, the Mondrian South Beach is the perfect choice for your wedding. With stunning views of the bay and modern ballrooms for dancing, this contemporary hotel has a little bit of everything.
If you're looking for upscale, then the W in South Beach is right up your alley. As one of the most exclusive hotels in Miami Beach, the W can make your wedding stand out from the rest. With both indoor and outdoor options, this hotel is the perfect place to host your big day.
Deciding what type of wedding venue you should have
Before you choose which venue you're going to have your wedding in, you need to decide what type of venue you want. Many different factors should influence selecting the right type of venue for your wedding. This list is all about helping you narrow down your selections, but before you pick one, you should ask yourself these questions:
Have you talked to a planner?
Even if you are trying to DIY as much of your wedding plans as possible, getting a fresh perspective from a planner can be a great idea. Wedding planners can help you understand the best kind of space that will match your vision. Beyond helping with venue selection, a planner can give you insights into how the space can be used creatively.
What is your budget?
The venue is usually one of the most expensive parts of a wedding's overall budget, so be careful to choose one that matches yours. Blowing all your budget on a great venue might leave you in a bind when it's time to start decorating and catering.
Who is on your guest list?
Before you can start thinking about a venue, you need to take a long hard look at your guest list. Of course, you want what you want when it comes to your wedding, but you also need to be thinking about what your guests will want. By choosing a space that everyone can feel comfortable in, you'll make your special day even that more enjoyable.
Final Thoughts
When it's time to choose the best wedding venue in Miami Beach for your big day, take comfort in the knowledge that you have some excellent choices. We hope this article has helped give you a better understanding of the options that are available to you.
---
Join the #MADCREAIVE community
Subscribe now and join us to for industry resources, newsworthy updates, and upcoming events..